But since I arrived early, I first took a tour of the Louisville Slugger Museum & Factory. If you haven't been (and I can't believe how many locals haven't!), you should. They take you on a thirty minute walk through the factory where you watch spinning cylinders of wood shaped into bats. It really is fascinating! And the place smells good, too.
Unfortunately, they don't let you take photos inside the factory. But they will let you take a pic of the bat outside!
When I entered the high school, I immediately knew where to find the library. It was the room that had its windows covered with #ReasonsWhyYouMatter cards.
Inside the library, I was welcomed by...um...I can't remember this lady's name. So I'll just call her Annabelle! Annabelle changes her wardrobe throughout the year. Today, she wore a
Thirteen Reasons Why
t-shirt.
On the back, the t-shirt says...
(This isn't Annabelle. This is a very nice student.)
Before the students entered the auditorium, Colin Mayfield from WLKY interviewed me for the news. I hope they were only shooting me from the chest up, because from the chest down it looks like I'm trying out for Riverdance (the international Irish dancing phenomenon).
As the students arrived, the screen displayed several of the #ReasonsWhyYouMatter cards filled out by students.
And here they are!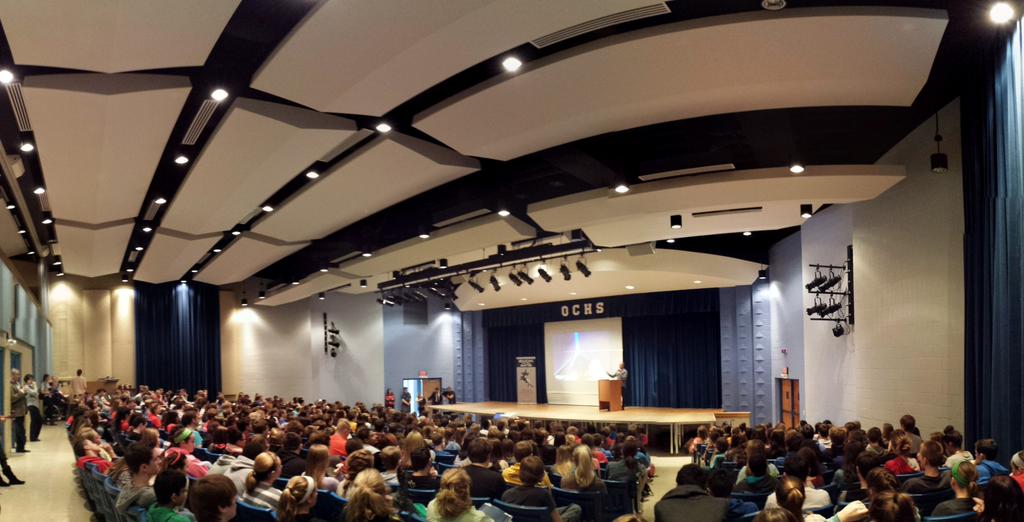 (photo lovingly borrowed from school's Twitter feed)
Here I am with only some of the library aides who helped make sure this event ran without a hitch.
And yes, on the way to my next stop I grabbed a quick bite at KFC!